Getting Ready for Christmas: A Barton Grange Guide to Your Festive Preparations
We are counting down the days to December 1st! There's already a jingle in the air – Christmas is right around the corner and it's time to get into the festive spirit! At Barton Grange, we're here to help you make this year extra special. From advent calendars to Christmas cards, gift guides to decorations, and even Dave's 'Christmas Crackers', we've got Christmas all wrapped up.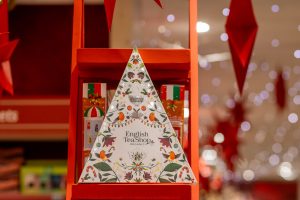 The tradition of advent calendars has been around for generations and at Barton Grange we believe it's the perfect way to count down the days until Father Christmas arrives. From luxurious chocolate-filled designs to ones with tiny treasures behind each door, to more traditional fabric or paper creations, we've got a style to suit everyone.
Sending and receiving Christmas cards is one of the most enduring festive traditions! Now is the time to start writing and displaying them in your home. Our collection of Christmas cards features an array of designs, from classic and traditional to modern and whimsical. You'll find the perfect cards to share your warm wishes with family and friends. Don't forget we sell stamps!
Choosing the perfect gifts for your loved ones can be a daunting task, but our Christmas Gift Guide is here to make it a breeze. Discover thoughtful and unique gift ideas, from exquisite ornaments to beautiful wreaths, cosy blankets, and so much more. You'll find something for everyone on your list.
Creating your very own winter wonderland at home is one of the most exciting parts of Christmas. Barton Grange offers a wide selection of decorations, from twinkling lights to elegant baubles, garlands and wreaths. With our gorgeous decor, you can transform your living space into a festive scene full of warmth and holiday cheer. If you're looking for some inspiration, explore our award-winning Christmas displays!
Now that you have all the essential elements in place, it's time to get to work.
Start your day with a treat from your advent calendar, pen a heartfelt message in a Christmas card for a loved one and consult our gift guide for unique and thoughtful presents. Then, let your creative juices flow as you adorn your home with our beautiful Christmas decorations, creating a magical atmosphere for this merry season!
At Barton Grange, we're here to help you make your Christmas truly special. We hope your festivities, however you celebrate, will be filled with love, laughter and unforgettable moments. Happy Christmas!