Christmas Eve Traditions: A Night of Magic and Memories
Christmas is a time of joy, togetherness and tradition. One of the most magical days of the year is Christmas Eve. It's a day filled with anticipation and excitement as families and friends come together to prepare for the big day. We're here to help with all your Christmas Eve preparations. These include the tradition of setting out treats for Father Christmas, creating Christmas Eve boxes, making hot chocolate stations, slipping into cosy slippers, enjoying mince pies, reading Christmas Eve books, last-minute shopping, Christmas dinner preparations and lighting relaxing candles.
Setting Out Plates for Father Christmas
One of the most exciting jobs for children on Christmas Eve is placing a carrot out for Rudolf and setting out a plate of cookies and a glass of milk for Father Christmas. We have a range of festive plates especially for this occasion!
Creating Christmas Eve Boxes
Set up a gingerbread house decorating station with pre-made gingerbread houses, icing and a variety of colourful sweets from The Cook Shop. It's a chance for everyone to unleash their creativity as they decorate their gingerbread houses. The finished creations can serve as festive centrepieces or delicious desserts.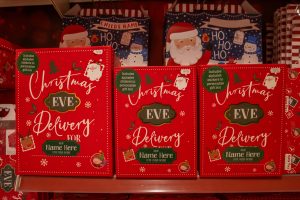 Slipping into Cosy Slippers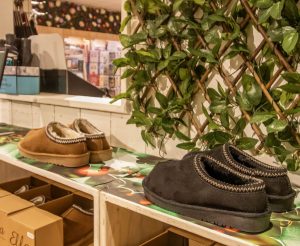 As evening approaches, it's time to wind down and slip into cosy slippers. Treat yourself to a new pair as you cuddle up under a blanket. We have a selection of warm and cosy slippers in our gift shop. It's the perfect chance to relax before the big day arrives.
Engage in a lively game of Pass the Sprout or Pass the Christmas Pudding which is a Christmas twist on the classic Pass the Parcel game. Pass the sprout or pudding around the circle and when the music stops, the person holding it unwraps a layer. Perfect for all ages to join in!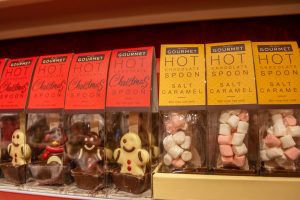 Mince Pies and Christmas Eve Books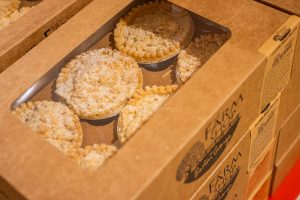 Play a special game of bingo using holiday-themed cards or festive family fun crackers. Christmas hats are a must! Pull the crackers to discover the treats and jokes inside.
Is the art of last-minute shopping your Christmas Eve tradition? Don't worry, we've got you covered with a gift for everyone on your list. Barton Grange is open from 10.30am to 4.30pm so you've got plenty of time to stock up on presents to make everyone happy.
Christmas Dinner Preparations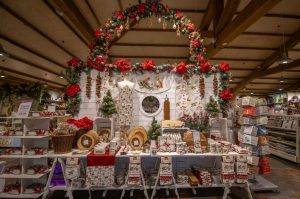 As the saying goes: Fail to prepare, then prepare to fail! The big day is tomorrow! Visit The Cook Shop and The Farm Shop to grab all your essentials to make sure your Christmas dinner is a big success. Don't forget to dress your table, lay out the crackers and write your place cards.
Finally, it's time to breathe. Snuggle down for the night, light a scented candle and fill your home with Christmas aromas. We've got a lovely range of home fragrances and candles that will create the festive atmosphere you're looking for!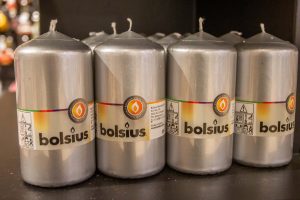 Christmas Eve is a day of magic and anticipation, filled with heart-warming customs. These special traditions unite us and bring us closer each year. So, as you embark on your Christmas Eve preparations, remember that it's not just about the tasks but the love and harmony that make this day truly magical. and festive games.