A Blooming Delight: How to Make a Bulb Lasagne
At Barton Grange, we like to help you with your gardening endeavours at home by providing expert advice, top-quality products, and a passion for the natural beauty of your outdoor spaces. One delightful way to do this is by creating a "Bulb Lasagne" in your garden. No, we're not talking about the Italian pasta dish, but rather a layered garden planting technique that ensures a spectacular springtime display of flowers. In this guide, we'll walk you through the steps to create your very own bulb lasagne so you can enjoy a burst of colour and fragrance in your outdoor space.
BULBS: Choose a variety of spring-flowering bulbs such as tulips, daffodils, crocuses, and hyacinths. These will provide a range of colours and shapes.

CONTAINER OR GARDEN BED: You can create a bulb lasagne in a container, raised bed, or directly in the ground. Ensure proper drainage in your container if you choose this option.

QUALITY POTTING COMPOST: Use a well-draining potting mix suitable for bulbs.

GLOVES AND TROWEL: 

For planting and handling the bulbs.
1. SELECT YOUR LOCATION:
Choose a sunny or partially shaded spot in your garden. Bulbs generally prefer well-draining soil and some sunlight to thrive but always check the back of your bulb packet for more specific information.
2. PREPARE YOUR CONTAINER OR BED:
If using a container, ensure it has drainage holes at the bottom and add a layer of grit for drainage.
In a garden bed, clear the area of weeds and loosen the soil.
3. LAYERING YOUR BULB LASANGE:
Start by adding a layer of compost. We recommened Bulb Fibre for smaller pots or Westland Multi-Purpose Compost for larger pots.
Plant the largest bulbs (e.g., daffodils) first, placing them about 3-6 inches apart, and cover them with another 2-inch layer of compost
Add the medium-sized bulbs (e.g., tulips) on top, spacing them evenly between the larger bulbs. Cover with another 2 inches of compost
Finish by planting the smallest bulbs (e.g., crocuses and hyacinths) in the top layer. These can be planted more closely together.
Water the layers lightly after each planting.
4. COMPOST AND WATER:
Apply a layer of compost on top to help conserve moisture and regulate soil temperature.
Water your bulb lasagne thoroughly, allowing the soil to settle.
5. OVERPLANT
Overplant with seasonal bedding!
6. WAIT FOR SPRING MAGIC:
As the seasons change and spring arrives, your bulb lasagne will burst into bloom with a vibrant mix of colors and fragrances.
7. MAINTENANCE:
Once the flowers have finished blooming, allow the foliage to wither naturally before removing it. This helps the bulbs store energy for the next season.
Creating a bulb lasagne is a wonderful way to welcome spring and enjoy a stunning display of flowers in your garden. At Barton Grange, we encourage you to embrace the beauty of nature and this planting technique is a perfect example of how you can do just that. Happy gardening!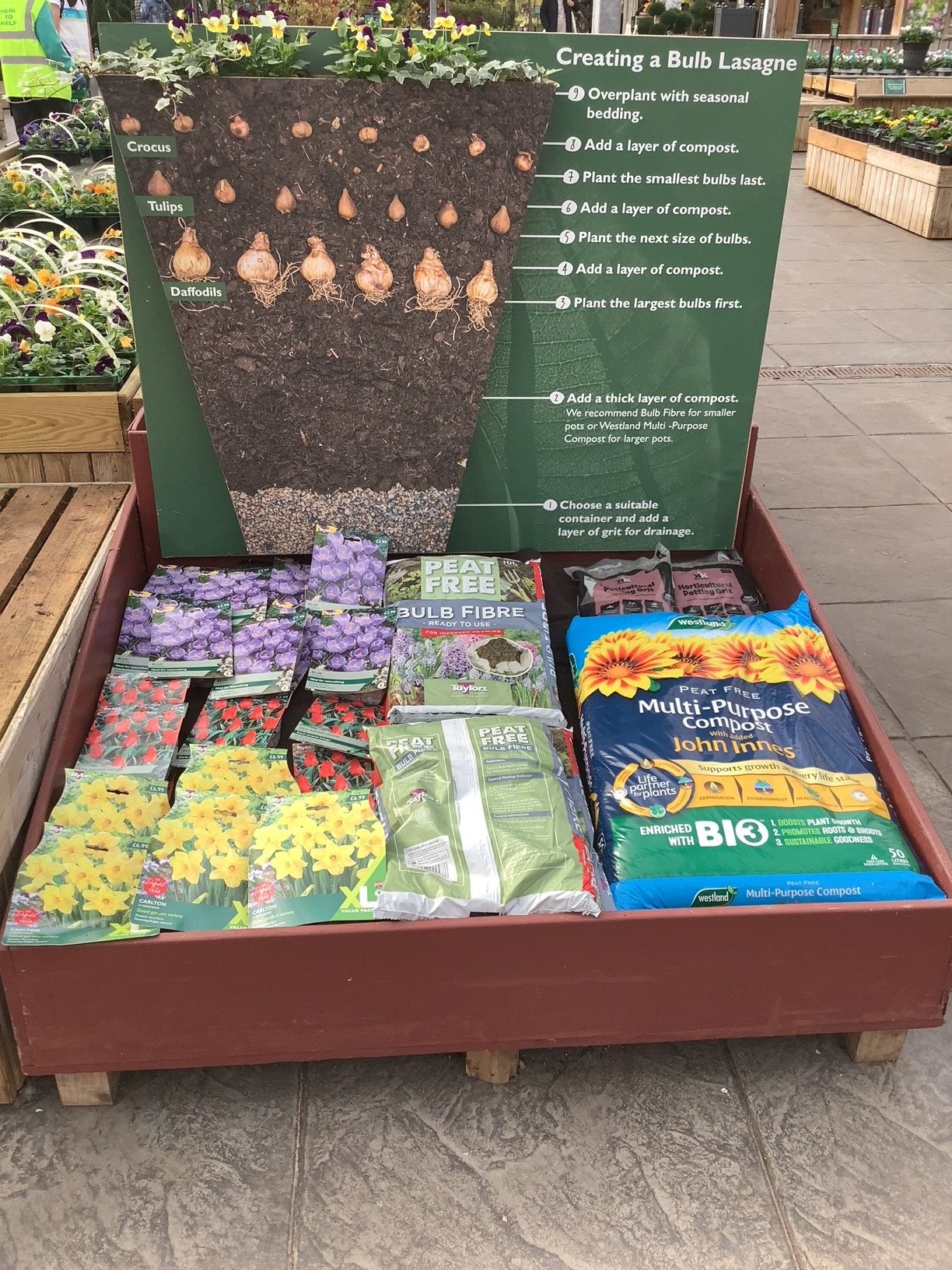 For more gardening tips, inspiration, and high-quality bulbs, visit us today!